The best Lenovo laptops consistently rank near the top of our overall best laptops rankings. From the excellent ThinkPad business laptops to the sleek Yoga notebook and affordable Ideapad laptops, Lenovo offers something for all types of laptop users.

Whether it's the best business laptops or best 2-in-1 laptops on the market, Lenovo will always have a laptop that's among the best of them. It comes as no surprise that Lenovo makes some of our favorite laptops, from the business-focused ThinkPads to the gaming-centric Legion laptops. In fact, the Lenovo ThinkBook Plus Gen 3 nabbed our Best Innovation award in our best of CES 2022.

Still not sure which Lenovo business laptop to buy? Check out our best Lenovo ThinkPad guide that compares the top models. And to maximize productivity at work, make sure you buy the right ThinkPad accessories. If you're a business user and aren't sold on buying a ThinkPad, check out the best Dell Latitude and Precision laptops.
What are the best Lenovo laptops?
The ThinkPad X1 Carbon isn't just the best Lenovo laptop, it's one of the best laptops on the market. Great for business users but also students or everyday users who want a lightweight machine, the X1 Carbon weighs just over 2 pounds yet delivers fast performance in a military-tested chassis. The only subset of consumers the X1 Carbon doesn't suit are those on a budget and gamers.
If you're looking to save some money, the ThinkBook 13 is another great option. It has fast speeds, a comfortable keyboard, and decent battery life. If you'd prefer a laptop made for consumers, rather than enterprise users, the Lenovo Yoga 9i is an outstanding option and a good alternative to the Dell XPS 13 2-in-1 or HP Spectre x360 14. You should also put the new ThinkPad X1 Nano on your list if you need the absolute most potable business laptop.
For gamers, the Legion 5 Pro is a great choice and, depending on your configuration, can play the latest AAA games. And if you're on a very tight budget, the Chromebook Duet is a fantastic detachable 2-in-1 that sells for just $279.

If you're a fan of Lenovo's line of gaming laptops, check out the battle between the gaming brothers: Lenovo Legion 5 vs. Lenovo Legion 7.
The best Lenovo laptops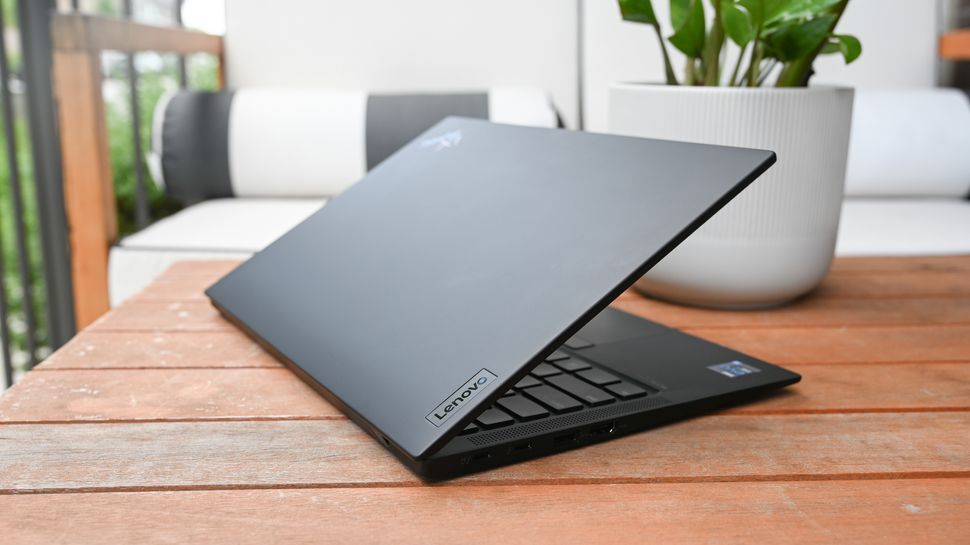 Lenovo made several welcome changes to the 9th Gen edition of its flagship business model. On top of fast performance from 11th Gen Intel CPUs, you get epic battery life, powerful quad speakers, a new 14-inch display with a 16:10 aspect ratio, and plenty of ports, all in an impossibly lightweight chassis (2.5 pounds).
But it's still those classic ThinkPad features — a durable design (with MIL-STD-810G strength), best-in-class keyboard, and stealthy black/red aesthetics — that carry the X1 Carbon to greatness.
Yes, we wish the ThinkPad X1 Carbon hadn't ditched the SD card reader in the previous, and top configurations can get very expensive, but you'd be hard-pressed to find a better overall business machine.
See our full Lenovo ThinkPad Carbon X1 (Gen 9) review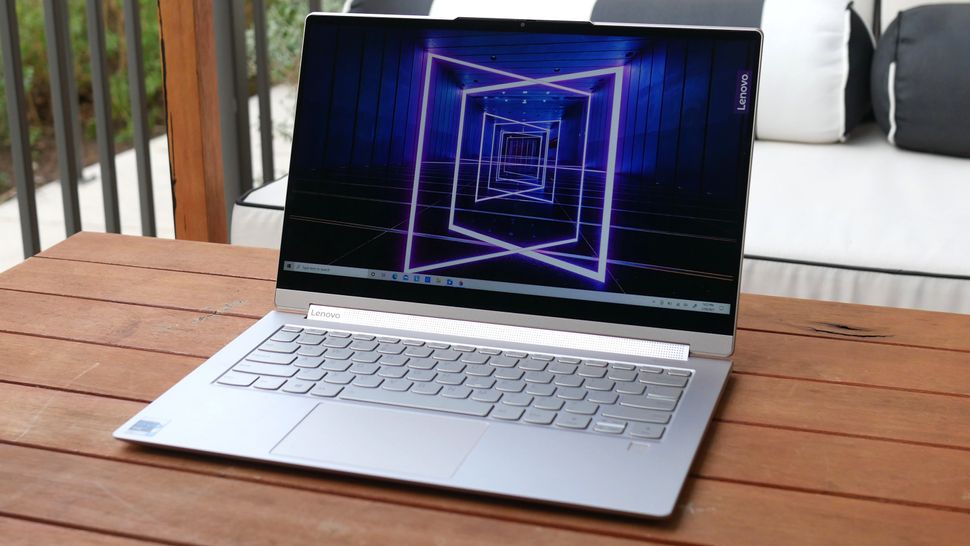 The successor to the excellent Yoga C940, the Lenovo Yoga 9i takes a proven formula and refines it. Subtle design improvements, long battery life (11:15) and refreshed 11th Gen Intel processors make the Yoga 9i a worthy successor to one of last year's top 2-in-1 laptops.
As you'd expect from a Yoga-series laptop, the Yoga 9i has a premium, ultra-portable chassis, and a unique hinge that doubles as a rotating soundbar speaker. As a 2-in-1, that hinge can rotate 360 degrees to convert the Yoga 9i into a tablet or be placed in tent mode so you can watch movies without a keyboard in the way. When it comes to viewing content, the Yoga 9i's 1080p (4K is available) display is crisp, vibrant, and bright.
For all the basics it gets right, my favorite things about the Yoga 9i are its extra features, which include a webcam cover (no more need to buy tape), a slot for the improved Active Pen, and a fingerprint sensor. Unfortunately, there is no IR camera.

The Lenovo Yoga 9i Gen 7 is the latest iteration and is also a fantastic option.
See our Lenovo Yoga 9i review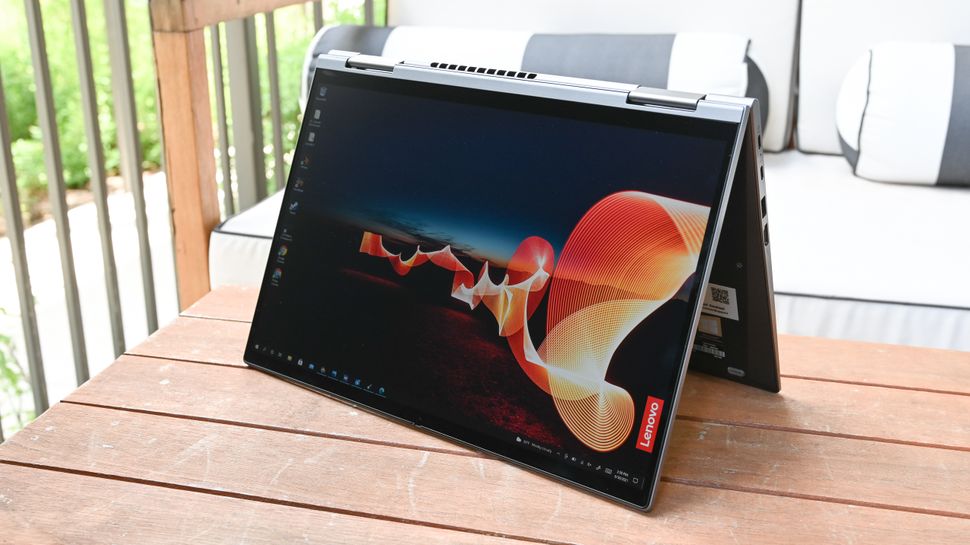 We still love the signature matte-black carbon fiber found on most ThinkPads, but the aluminum and magnesium ThinkPad X1 Yoga is a gorgeous change of pace. Not only does it have a slim design, but this convertible 2-in-1 flaunts a bright display and offers a best-in-class keyboard and long battery life. These combine to make the best Lenovo laptop for anyone who those looking for a convertible.
You also get loads of extra goodies, like a built-in stylus slot and webcam cover. We love the ThinkPad X1 Carbon for its super-lightweight chassis, but you should definitely get the Yoga instead if you want to use a stylus or prefer a convertible design. If you're looking for something more unique, the Lenovo ThinkPad X1 Titanium Yoga steps things up with a durable yet ultra-lightweight design.
See our full Lenovo ThinkPad X1 Yoga (Gen 6, 2021) review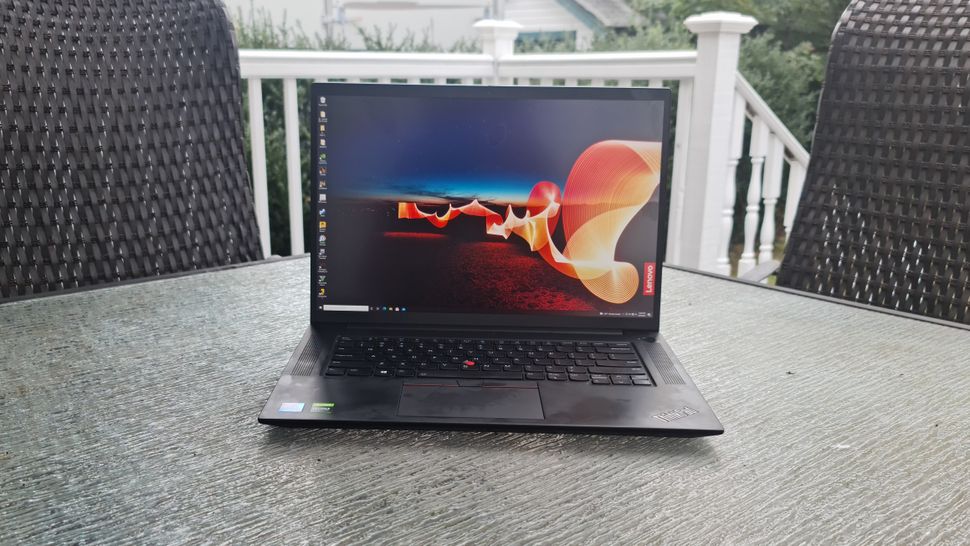 Lenovo couldn't have picked a better name for the ThinkPad X1 Extreme Gen 4 — extreme is the operative word here. This 16-inch laptop, packed with extreme internals such as a top-of-the-line 11th Gen Intel Core i7 CPU and powerful Nvidia 30-series graphics, was built to make its rivals sweat. Someone check on the Dell XPS 15!

The ThinkPad X1 Extreme Gen 4 is ideal for handling extreme workloads for professionals, whether you're a creator, architect, or engineer. As a cherry on top, they can relax and play their favorite graphics-intensive games after a long day of productivity. With a durable chassis, crisp 1080p webcam, great performance, and graphics, the Lenovo ThinkPad X1 Extreme Gen 4 is one of the best business laptops on the market.

See our full Lenovo ThinkPad X1 Extreme Gen 4 review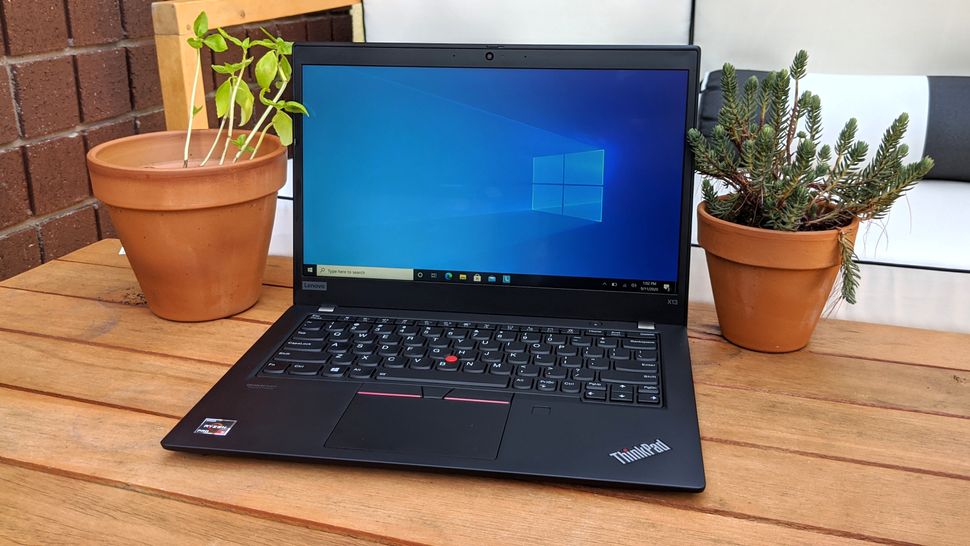 A Lenovo business laptop for under $1,000? It's time to have a chat with your IT manager. The budget-friendly ThinkPad X13 with AMD chips delivers some of the best elements of the ThinkPad lineup at a much lower price than we're used to.
Some of those features include a portable, minimalist chassis with military-grade durability, an outstanding keyboard, and plenty of security features, including a fingerprint sensor and IR camera. Thanks to its AMD Ryzen CPUs, the ThinkPad X13 has incredible performance at this price. The only major downside is the subpar battery life, but around 8 hours isn't terrible.
The ThinkPad X1 Carbon remains the best Lenovo laptop if you can afford one, but the ThinkPad X13 is an excellent, low-price alternative.
See our full Lenovo ThinkPad X13 (AMD) review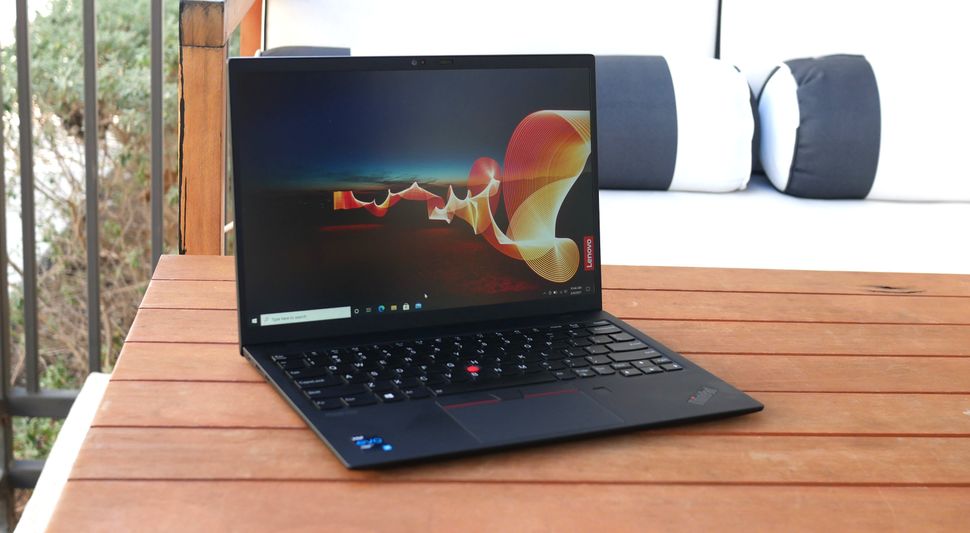 The X1 Nano is the new kid on the block, and it has a few tricks up its sleeve. Weighing only 2 pounds, the Nano is the lightest ThinkPad laptop ever. It gains portability by trading screen real estate. However, its 13-inch, 2K panel is gorgeous and the 16:10 aspect ratio makes up for the smaller size.
On top of that, the X1 Nano gets blistering performance out of its 11th Gen Intel CPUs and its 12 hours of battery life is baffling considering the high-res screen and ultra-lightweight design.
There are a few downsides to consider, like its limited ports and small touchpad, but overall, the X1 Nano achieves what Lenovo set out to do — deliver everything you already love about the ThinkPad brand in the smallest package yet.
See our full Lenovo ThinkPad X1 Nano review
If you're looking for a great all-around laptop that'll get you through the day, the Lenovo IdeaPad Slim 7 Carbon may be the notebook for you.
For just $1,189, the IdeaPad Slim 7 Carbon features powerful performance combined with a gorgeous 14-inch OLED display, Dolby Atmos speakers, and a comfortable keyboard. The only real flaw this machine has is its below-average battery life, but even that discrepancy is negligible. It still lasted close to 10 hours on a charge.
The Lenovo IdeaPad Slim 7 Carbon is a stellar laptop for the price and is a worthy purchase users will be delighted with.

See our full Lenovo IdeaPad Slim 7 Carbon review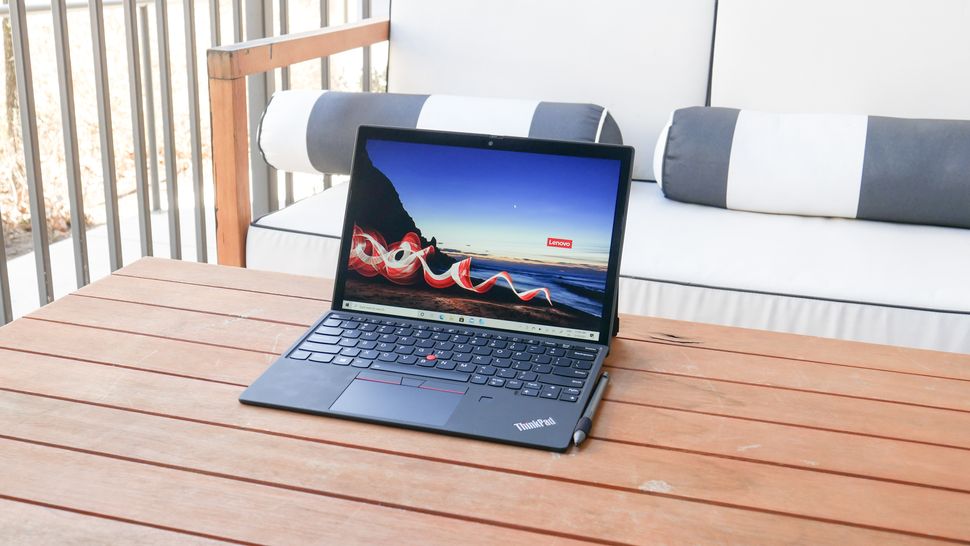 The Lenovo ThinkPad X12 Detachable is, in short, a better version of the Surface Pro 7. It has the same detachable form factor and uses a kickstand that can rotate to about the same 160-degree angle. The 12.3-inch display is almost identical to the one on the Surface and, like the Pro 7, the detachable keyboard is fantastic. You even get military-grade durability from its rigid chassis.
Why is it better than the Surface Pro 7 and Pro 7+? Because the ThinkPad X12 Detachable lasts longer on a charge, enduring for more than 11 hours, and it weighs slightly less than its magnesium alloy competitor. Better yet, the X12 Detachable comes bundled with the keyboard and pen, although you'll need to spend a pretty penny on this business-focused detachable.
If you need good speakers or a USB Type-A port, then you might go with the Surface Pro 7, otherwise, we prefer the X12 Detachable.
See our Lenovo ThinkPad X12 Detachable review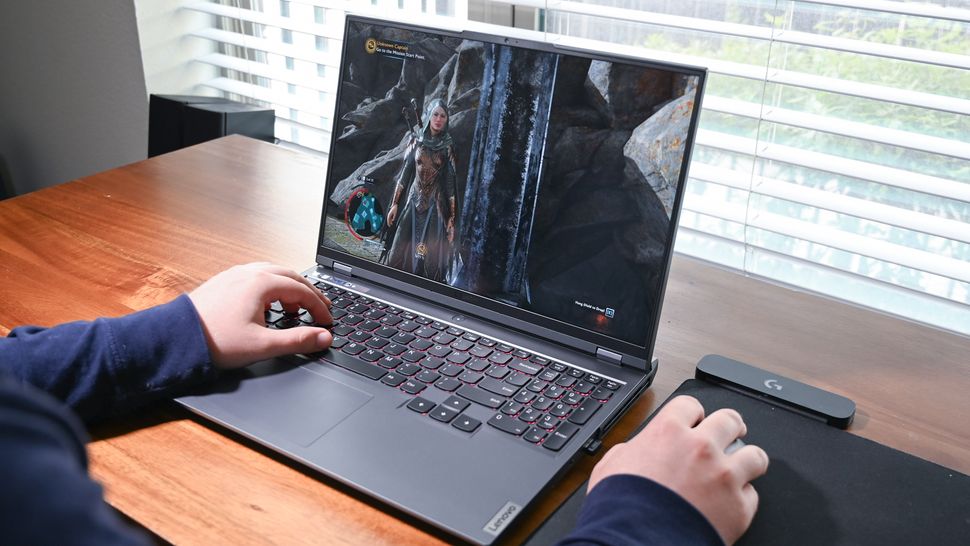 Lenovo's Legion 5 Pro proves what's possible when two opposing forces come together for the greater good. Those forces are AMD and Nvidia, and the greater good is the gaming community. Armed with an AMD Ryzen 7 5800 CPU and Nvidia GeForce RTX 3070 graphics, the Legion 5 Pro gives gamers the power they need to run the latest AAA titles at Ultra graphics settings.
What it lacks in flashy aesthetics, it makes up for with a gorgeous 16-inch QHD display, an exceptional keyboard and touchpad, plenty of ports, and outstanding performance from the one-two punch of an AMD CPU and Nvidia GPU. And despite harnessing so much power, the Legion 5 Pro delivers respectable battery life at more than 6 hours on a charge. This is, without question, Lenovo's best gaming laptop for the money.
See our full Lenovo Legion 5 Pro review
(opens in new tab)
The Lenovo Duet 5 Chromebook is a significant departure from last year's affordable Chromebook Duet. Although the higher price tag may drive some away, the considerable hardware upgrades make this 2-in-1 just as compelling.
The Duet 5 still features a fabric rear case and keyboard cover like the previous model, but open it up and the 13.3-inch OLED display will make you check that sub-$500 price again. The changes run deeper than that with a dramatically improved Qualcomm Snapdragon 7c Gen 2 processor, while also delivering over 13 hours on a single charge.
While it may not be the scrappy budget champ that the original Chromebook Duet was, the Duet 5 has bulked up and is ready to take on some heavyweight competition.

See our full Lenovo Duet 5 Chromebook review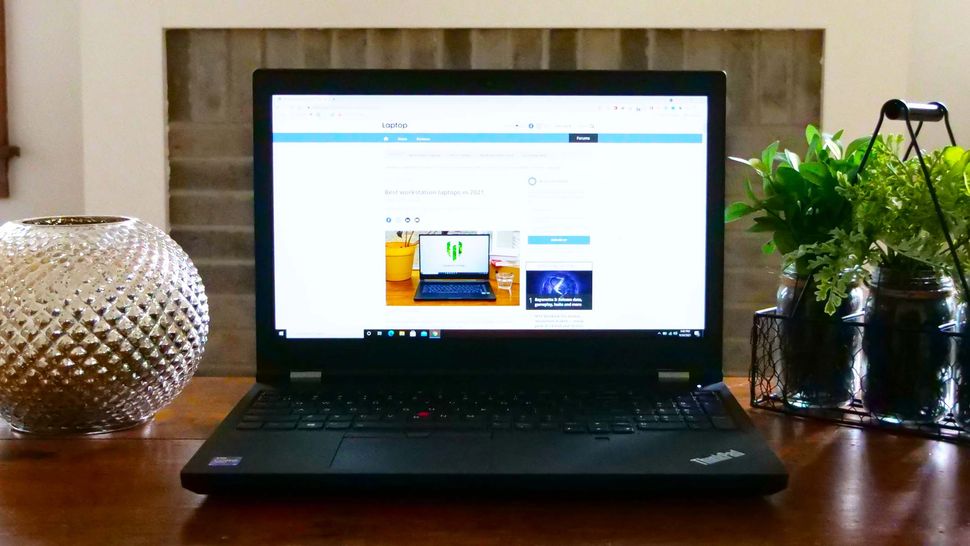 The Lenovo ThinkPad P15 Gen 2 improves on what was already a winning formula with the original ThinkPad P15 with upgraded performance and stellar battery life for the 1080p model.
The laptop's 11th Gen Intel Core i9-11950H CPU, Nvidia RTX A5000 GPU, and 32GB of RAM make it an absolute workhorse of a workstation. If raw performance is your goal, it will be hard to beat the ThinkPad P15 Gen 2. The one concern for creatives will be the display, but if that's crucial for you consider the OLED panel option or perhaps an external display.
See our full Lenovo ThinkPad P15 Gen 2 review
The Lenovo ThinkPad P1 Gen 4 came in hot, shoving all of its competitors out of the way with its jaw-dropping performance results. Seriously, this business-oriented mobile workstation blows all of its rivals out of the water, making it one of the best mobile workstations on the market.

With RAM-maxed with 64GB of memory, along with an Intel Core i7-11850H CPU and a 16-inch, 3840 x 2400-pixel (4K) display, and a 1TB PCIe SSD, the ThinkPad P1 Gen 4 is the best sidekick a business power user can have. Not only does it offer beastly performance, but it also comes with a host of ISV certifications. What does that mean? It signifies that the ThinkPad P1 Gen 4 can run popular professional applications reliably and optimally, including Adobe After Effects and Premiere Pro.

Running GPU-intensive apps is a breeze for the brawny ThinkPad, thanks to its Nvidia RTX 3070 graphics card. It also means that this workstation can double as a gaming rig — woo-hoo! As long as you plan to keep the ThinkPad P1 stationed on a desk while it remains tethered to an outlet, its poor 6-hour battery life isn't a problem.

See our full Lenovo ThinkPad P1 Gen 4 review
The Lenovo ThinkBook Plus G2 is a stylish, innovative, and unique laptop designed to appeal to mobile professionals, students, and folks looking for a solid digital sketchpad or e-reader. And while the lid-mounted E-Ink display is a definite conversation starter, it's a bonafide workhorse thanks to its Core i7 processor with integrated graphics and zippy SSD. It brings a useful new wrinkle to productivity and doesn't make you pay extra for the pen.

The ThinkBook Plus G2 does stumble in a few areas such as battery life and the main display that could stand to be more vivid and brighter. But if you're looking to take your multitasking and productivity to the next level, you can't do better than the Lenovo ThinkBook Plus G2 ITG.

See our full Lenovo ThinkBook Plus G2 ITG review
It's rare to find a gaming laptop that goes all out for under $2,000, but consider that loot drop snagged with the Lenovo Legion 7i (Gen 6, Intel).
For $1,859, the Legion 7i offers incredible performance from its Intel Core i7-11800H CPU and Nvidia GeForce RTX 3070 GPU, a beautiful 16-inch display, long battery life, and a svelte design.

The Lenovo Legion 7i has a lot going for it, from its incredible performance and long battery life to its gorgeous display and design. However, it's not perfect, and one of its flaws is hard to ignore considering you'll be constantly using it (the keyboard).

Keyboard aside, the Lenovo Legion 7i is a great gaming laptop, and you'll be hard-pressed to find another with as powerful performance and as bright and vivid of a display under $2,000.

See our full Lenovo Legion 7i (Gen 6, Intel) review
The ThinkBook 13x is a young whippersnapper that thought it could steal its predecessor's shine, but the ThinkBook 13s Gen 2 is superior in many ways. It has a better variety of ports, zippier performance, and quicker video transcoding.

That being said, the ThinkBook 13x boasts extra battery runtime, and it's a decent option if you do some video transcoding here and there and you want a machine that saves you time. Plus, it's portable and lightweight, sports a fantastic build quality, and even comes preinstalled with an AI transcription app. If you're on the hunt for a reliable business laptop, the ThinkBook 13x won't disappoint.

See our full Lenovo ThinkBook 13x review
How to pick a Lenovo Laptop
Lenovo's our top-rated laptop brand for good reason. The company offers an extensive product lineup with some of the best notebooks you can get from any manufacturer. Lenovo makes laptops for just about every type of user, from children in school to gamers and business executives.
We've listed our favorite current Lenovo laptops above, but if you're doing research, it helps to know the difference between the company's major product lines.
ThinkPad: Lenovo's business laptops have some of the best keyboards in the world and many have extremely long battery life. They're a great choice, even if you're not planning to use them for work.
Yoga: These premium 2-in-1s have great designs, colorful screens, and strong battery life.
Legion: The gaming line offers solid performance at reasonable prices.
Flex: A line of 2-in-1s that is less expensive than Yoga, but still full-featured.
IdeaPad: These mainstream consumer laptops range in price from low-end budget systems to more premium Ultrabooks.
How we test Lenovo laptops
We put each Lenovo laptop through extensive benchmark testing — both synthetic and real-world — before they end up in the hands of our reviewers. We evaluate each aspect of the laptop, including its performance, battery life, display, speakers and heat management.
In our benchmark testing, we use a Klein K10 colorimeter to detect the brightness and sRGB color gamut of the laptop's display. For performance testing, we run the laptop through a gauntlet of benchmarks, including Geekbench 5.0 and 3DMark professional graphics tests.
To determine real-world performance, we task the laptop to convert a 4K video to 1080p resolution and to duplicate a 25GB multimedia file. Our real-world graphics test is the Sid Meier's Civilization VI: Gathering Storm benchmark with medium settings at 1080p resolution.
We also run heat tests by playing a 15-minute full-screen video and measuring temperatures in different areas of the laptop. Last but not least, our battery test consists of continuous web surfing over Wi-Fi at 150 nits of brightness. For MacBooks and premium Windows 10 laptops, a runtime of over 9 hours is considered a good result whereas gaming laptops and workstations that can stay powered for longer than 5 hours deserve praise.
These tests are complemented with extensive hands-on testing from our reviewers who critique everything from the laptop's materials to the feel of its touchpad.